| | |
| --- | --- |
| HS: Brewster Academy | Wolfeboro, NH |
| Baltimore City College H.S. | Baltimore, MD |
Season Stats

| Season | Cl | Pos | G | GS | Min | FG | FGA | % | FT | FTA | % | 3Pt | 3PA | % | Asst | Reb | DReb | OReb | Fls | DQ | TO | ST | BS | Pts | PPG | APG | RPG |
| --- | --- | --- | --- | --- | --- | --- | --- | --- | --- | --- | --- | --- | --- | --- | --- | --- | --- | --- | --- | --- | --- | --- | --- | --- | --- | --- | --- |
| 2010-11 | Fr | F | 32 | 0 | 596 | 82 | 151 | | 39 | 64 | | 1 | 3 | | 13 | 122 | 72 | 50 | 39 | 0 | 27 | 26 | 25 | 204 | 6.4 | 0.4 | 3.8 |
| 2011-12 | So | F | 37 | 9 | 977 | 115 | 248 | | 78 | 105 | | 6 | 24 | | 34 | 199 | 125 | 74 | 54 | 0 | 29 | 40 | 18 | 314 | 8.5 | 0.9 | 5.4 |
| 2012-13 | Jr | F | 40 | 40 | 1394 | 217 | 462 | | 117 | 155 | | 30 | 64 | | 29 | 278 | 194 | 84 | 63 | 0 | 63 | 45 | 42 | 581 | 14.5 | 0.7 | 7.0 |
| 2013-14 | Sr | F | 34 | 34 | 1284 | 217 | 506 | | 103 | 142 | | 24 | 87 | | 43 | 219 | 160 | 59 | 71 | 0 | 85 | 44 | 27 | 561 | 16.5 | 1.3 | 6.5 |
| Career | | | 143 | 83 | 4251 | 631 | 1366 | 46.2% | 337 | 466 | 72.3% | 61 | 178 | 34.3% | 119 | 818 | 551 | 267 | 227 | 0 | 204 | 155 | 116 | 1660 | 11.6 | 0.8 | 5.7 |
C.J. Fair was a versatile forward for the Syracuse University basketball team.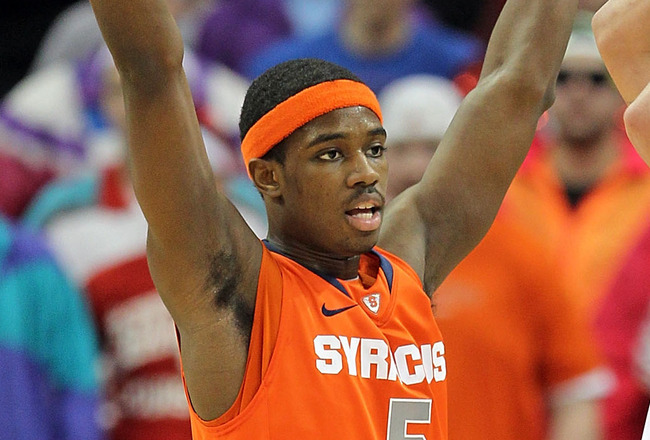 Fair would be part of the regular rotation of players for his entire freshman season. He provided a nice change of pace for the Orange with his left handed shooting and driving to the hoop. He made most of his playing time, often grabbing a key rebound or making a nice tip in shot when needed. Fair was easily recognizable by the fans for the bright orange headband he always wore.
Fair was still the sixth man his sophomore season, but really only in title, as he usually entered the game after two or three minutes to replace Rakeem Christmas, and he played the second most minutes on the team for the season, behind only Kris Joseph. Fair had improved his game with a mid range jump shot, and was counted on to do a lot of the rebounding.
He had many of his big games against big game opponents, including strong efforts against Florida, UConn, and Louisville. Fair would start struggling with his shooting as the regular season ended, and was having difficulty making any baskets in the Big East Tournament and early in the NCAA tournament. He would break out of it with good games against Wisconsin and Ohio State as the NCAA tournament ended for Syracuse.
Fair moved into the starting lineup his junior season and did not disappoint anyone. He would lead the team in scoring and rebounding, and prove to be the most consistent player over the course of the season. He had developed a decent three point shot that he used in the appropriate situations, and made nearly 47% of his attempts. Fair would finish the season with an impressive 22 point effort in the Final Four loss to Michigan.
Fair was expected to be the leader of the Orange team his senior season, and was the ACC's Preseason Player of the Year. Fair did lead the Orange in scoring and rebounding. He was the best scoring option on the court, and drew the attention of most defensives. Fair would have to work hard all season to get open shots, and his shooting percentage suffered. Fair's best game of the year occurred in the first ACC meeting between Syracuse and Duke. The game was extremely hyped, and well played. Fair played very well, and the Duke inside defenders had a difficult time guarding him. He would score 28 points in the game which the Orange won in overtime 91-89.
Fair struggled in the ACC tournament, hitting only three of sixteen shots as the Orange were upset 66-63 by North Carolina State.
Fair would be named to the All-ACC First Team, the AP All-American 3rd Team, and the USBWA Second Team.
Fair was part of Boeheim's Army 2021 TBT champion team.
© RLYoung 2010, 2011, 2012, 2013, 2014, 2021