| | |
| --- | --- |
| Syracuse vs. Lafayette | |
| The Palestra, Philadelphia, Pennsylvania (NCAA East Regional Semi-Final) | |
| March 15 , 1957 | |
| | | | | | | | | | | | | | | | |
| --- | --- | --- | --- | --- | --- | --- | --- | --- | --- | --- | --- | --- | --- | --- | --- |
| Pos | Player | Min | FG | FGA | 3FG | 3FGA | FT | FTA | Reb | Asst | TO | Stl | Blk | Fls | Pts |
| G | | - | 5 | 14 | - | - | 2 | 3 | 4 | - | - | - | - | 3 | 12 |
| G | | - | 0 | 7 | - | - | 0 | 2 | 7 | - | - | - | - | 3 | 0 |
| C | | - | 6 | 10 | - | - | 2 | 5 | 14 | - | - | - | - | 4 | 14 |
| F | | - | 3 | 15 | - | - | 2 | 3 | 4 | - | - | - | - | 3 | 8 |
| F | | - | 13 | 20 | - | - | 8 | 10 | 13 | - | - | - | - | 3 | 34 |
| - | | - | 3 | 9 | - | - | 1 | 4 | 9 | - | - | - | - | 0 | 7 |
| - | | - | 0 | 0 | - | - | 0 | 0 | 2 | - | - | - | - | 1 | 0 |
| | Syracuse Total | 200 | 30 | 75 | - | - | 15 | 27 | 53 | - | - | - | - | 17 | 75 |
| | | | | | | | | | | | | | | | |
| --- | --- | --- | --- | --- | --- | --- | --- | --- | --- | --- | --- | --- | --- | --- | --- |
| Pos | Player | Min | FG | FGA | 3FG | 3FGA | FT | FTA | Reb | Asst | TO | Stl | Blk | Fls | Pts |
| - | Stuart Murray | - | 14 | 25 | - | - | 2 | 5 | 6 | - | - | - | - | 0 | 30 |
| - | Bobby Mantz | - | 5 | 11 | - | - | 6 | 7 | 17 | - | - | - | - | 2 | 16 |
| - | Gordon Galtere | - | 1 | 9 | - | - | 6 | 8 | 11 | - | - | - | - | 3 | 8 |
| - | Tony Mack | - | 1 | 8 | - | - | 6 | 9 | 3 | - | - | - | - | 5 | 8 |
| - | Joe Sterlein | - | 2 | 6 | - | - | 0 | 1 | 11 | - | - | - | - | 4 | 4 |
| - | Rich Kohler | - | 1 | 4 | - | - | 1 | 2 | 0 | - | - | - | - | 2 | 3 |
| - | David Jones | - | 1 | 2 | - | - | 0 | 0 | 0 | - | - | - | - | 1 | 2 |
| | Lafayette Total | 200 | 25 | 65 | - | - | 21 | 32 | 48 | - | - | - | - | 17 | 71 |
Comments:
The speedy Syracuse Orangemen would jump out to an early eleven point lead in the first half. Lafayette would rally in the last couple of minutes of the first half to cut the halftime lead to 42-40.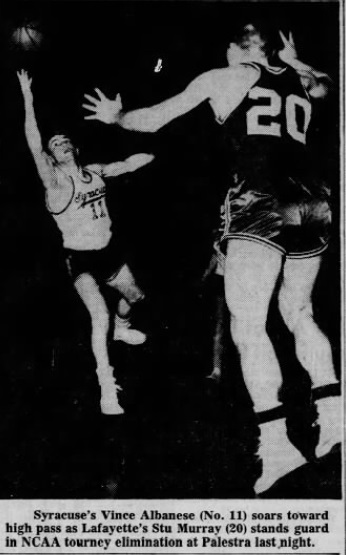 Lafayette would take the lead in the second half behind the sharp shooting of Stu Murray and strong rebounding of Bob Mantz. They would lead 57-53 with about ten minutes left in the game. Syracuse would use its vaunted fast break, and quickly score eight points taking the lead 61-57. Syracuse would never relinquish that lead, though the game was not decided until the last couple of minutes. [1]
Gary Clark led the Orangemen with a heroic effort of 34 points and 13 rebounds. Lafayette's Murray would have an impressive 30 points to his credit. Syracuse's Vinnie Cohen struggled all game, and had his worst game of the season.
© RLYoung 2019
[1] Troy Record, March 16, 1957