| | |
| --- | --- |
| HS: Pine Crest School | Davie, FL |
| | |
| --- | --- |
| Born: 12/27/1989 | Plantation, FL |
Season Stats

| Season | Cl | Pos | G | GS | Min | FG | FGA | % | FT | FTA | % | 3Pt | 3PA | % | Asst | Reb | DReb | OReb | Fls | DQ | TO | ST | BS | Pts | PPG | APG | RPG |
| --- | --- | --- | --- | --- | --- | --- | --- | --- | --- | --- | --- | --- | --- | --- | --- | --- | --- | --- | --- | --- | --- | --- | --- | --- | --- | --- | --- |
| 2008-09 | Fr | G | 16 | 0 | 28 | 2 | 7 | 28.6% | 2 | 3 | 66.7% | 0 | 2 | 0.00% | 7 | 6 | 3 | 3 | 1 | 0 | 3 | 3 | 0 | 6 | 0.4 | 0.4 | 0.4 |
| 2009-10 | So | G | 11 | 0 | 28 | 2 | 6 | | 0 | 3 | | 1 | 1 | | 2 | 5 | 2 | 3 | 3 | 0 | 2 | 1 | 0 | 5 | 0.5 | 0.5 | 0.2 |
| 2010-11 | Jr | G | 9 | 0 | 20 | 4 | 6 | | 3 | 4 | | 0 | 2 | | 6 | 4 | 2 | 2 | 4 | 0 | 1 | 2 | 0 | 11 | 1.2 | 0.7 | 0.4 |
| 2011-12 | Sr | G | 13 | 0 | 19 | 1 | 8 | | 5 | 7 | | 0 | 2 | | 2 | 4 | 3 | 1 | 1 | 0 | 3 | 0 | 0 | 7 | 0.5 | 0.2 | 0.3 |
| Career | | | 49 | 0 | 95 | 9 | 27 | 33.3% | 10 | 17 | 58.8% | 1 | 7 | 14.2% | 17 | 19 | 10 | 9 | 9 | 0 | 9 | 6 | 0 | 29 | 0.6 | 0.3 | 0.4 |
Brandon Reese was a walk-on guard at Syracuse University for four seasons.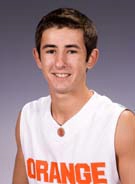 Reese would play 16 games his freshman year, all at the end of the game. He would play 5 minutes against LeMoyne with 2 points, 1 rebound, and 1 assist. He would be awarded a basketball scholarship for his sophomore season, and would play in eleven games that season.
Reese would once again earn a scholarship for his junior season. He would score 11 points for the year, and play in 9 games.
Reese would play in thirteen games his senior season, scoring 7 points for the year.
© RLYoung 2009-2012