| | |
| --- | --- |
| 1923-1924 Syracuse Orangemen | |
Coach: Ed Dollard
Syracuse was coming off of its first losing season since 1910-1911. Three starters were gone from the previous year's squad, but coach Eddie Dollard had some veterans to lean upon. Charles 'Pep' Fasce was the team captain at one forward. Senior Pete MacRae was once again going to man the center position with classmate Henry Guyer at the other forward. Junior Hank Greve and sophomore Albert Ackley were comprising the backcourt.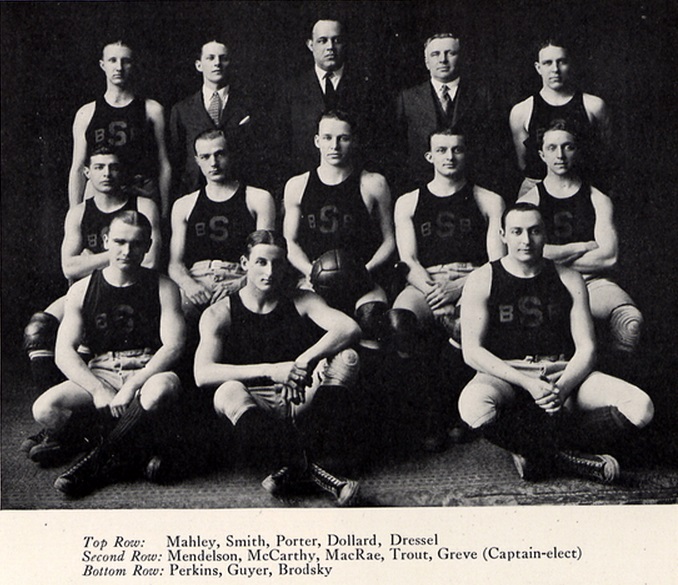 Syracuse struggled from the very start of the season. The NCAA rules had changed requiring individuals who were fouled to now take their own free throws, instead of a team designated shooter. That meant strong inside players like MacRae now had to make their own free throw shots, and that showed. The Orangemen would lose their opening game to Clarkson 30-26, and lose to Cornell 28-10. They also had two wins, but they were sloppy and against opponents not noted to be strong.
Dollard was upset with the defensive play of his guards, and with the offensive play of his forwards, along with the overall team play. He would start shaking up the lineup at that point, and over the remaining course of the season. Charley Trout would replace Guyer at forward in an effort to improve the starting offense.
By the end of January the Orangemen were 5-4. They would go on a brutal road trip to Army (a very strong team with All American Johnny Roosma), Springfield, and Harvard over a four day period, and it showed, as the Orangemen lost all three by large margins.
The team was then dealt a serious blow when three starters Ackley, Trout and team captain Fasce were suspended for the remainder of the season on February 10th for failing to maintain their academic requirements. Trout would get re-instated after one game, but Fasce and Ackley would not play again that year; MacRae would become the team captain.
Junior Sidney Mendelson emerged as a nice scoring option down the stretch, and would start most of the games wrapping up the season, twice leading the team in scoring.
A season of mishaps and poor play took an even stranger twist during the Colgate game on March 8th. Syracuse was struggling in a close game against rival Colgate at half time. Coach Dollard noticed Hank Greve humming to himself while the team was going to the locker. Upset that his top scoring player was so cavalier in a close game, Dollard immediately suspended Greve for the remainder of the season, and did not play him in the second half. The Orangemen would lose to Colgate 22-19.
A couple of days later Greve would meet with Dollard and captain MacRae and explain his position. Greve stated that he was upset with the play on the court, and was trying to get everything out of his mind by humming to himself. Dollard, a man who felt that total focus on the game was necessary at all times, accepted Greve's explanation, and re-instated him for the season finale.
The addition of Greve back to the lineup did not help however, as a strong Penn State team easily beat the Orangemen 37-22 to give them their second straight losing season, with an 8-10 record.
©RLYoung 2005, 2006, 2007, 2008, 2014, 2016